Choosing the color for your roof is a big decision, and it can completely change the appearance of your home. So we at Powell's Roofing and Siding take the time to make sure our clients feel comfortable with their decision. It could boost their home's curb appeal and add longevity to your roof and home. But most of all, people want to come home to a house they love—all the way down to the roof shingle color they select.
Fortunately, roofing colors have come a long way. There are many trendy options these days that we show our clients during our consultations. So, we'll round up a few of our clients' most popular roof shingle colors in 2022. And if you find a color that resonates with you—give us a call. Some roof shingles that we see gaining popularity in 2022 include
Black
Light and dark grey
Light and dark brown (sand, taupe, autumnal brown, tree bark etc.)
Green (forest, moss, hunter)
Off white (beige, stone, tan, khaki)
How to Choose the Right Roof Shingle Color for Your Home?
At Powell's Roofing & Siding, we tell our clients the most common consideration when choosing a roof shingle color is their home's siding color. You want a roof color that complements that siding color. Looking for more texture or having many shades on your home's exterior? You can get shingles that combine a few colors for a speckled look that can accent more than one color at a time.
Indeed, there are a lot of factors to consider when choosing the right roof color for your home. But we tell our clients that warmer colors (beige, orange, brown, yellow) and cooler colors (blue, grey, whites) generally work well together.
When in doubt, we say to choose timeless roof shingle colors like black, brown, or gray. These neutral colors typically help boost a home's resale value over more expressive color choices, and they also provide excellent texture to your home's exterior.
When choosing your roof shingle color, you want to consult your trusted roofers. Or get a better look at your options with online tools such as the CertainTeed Siding and Roof Color Visualizer tool.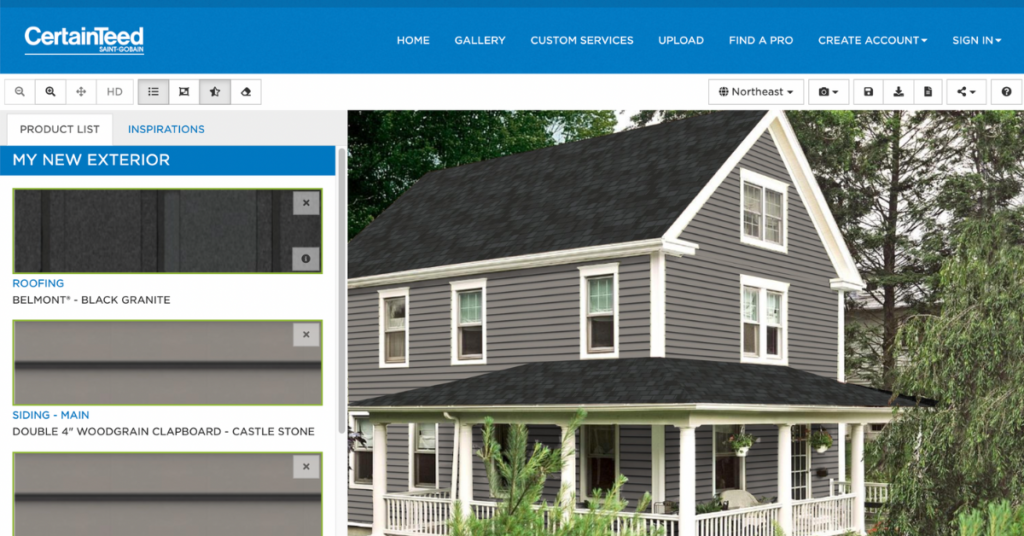 Our trusted roofers at Powell Roofing and Siding have decades of experience helping clients find the right color for their roofing shingles. We also have the latest trends and styles straight from the Certainteed roofing products. Our roofing experts will be able to offer you a free consultation if you consider different roof shingle colors for your next home project. For more on roof colors and products, contact us at Powell's Roofing and Siding today.