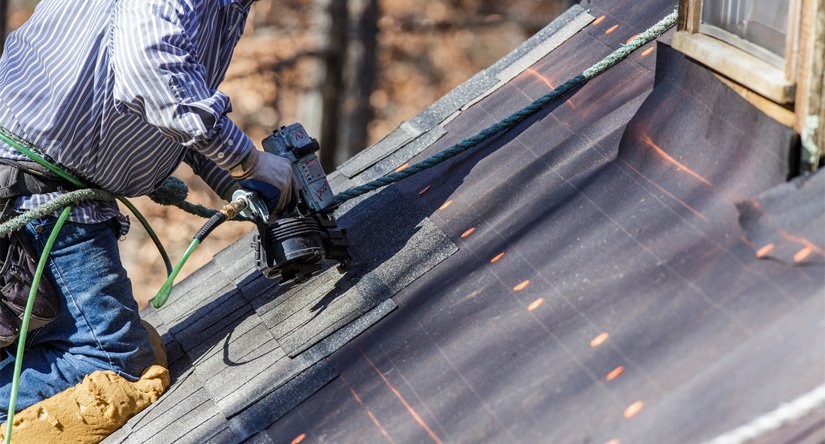 Homeowners have many types of roofing options from which to choose, but the most durable and cost-effective may be roof shingles. Roofing shingles shed water and resist wind uplift by relying on flat and rectangular shingles. Roof shingles come in a variety of materials (including asphalt, wood, and slate) and a variety of colors (including brown, black, and grey shingles).
How long does roof shingles last? When should they be replaced?
One of the best things about roof shingles is that they are incredibly durable. Many quality roof shingles are available and, depending on the roof shingles type you select, shingle roofs will last from 20 to over 40 years.
How are roof shingles installed?
First, we make sure that the current roof does not have any structural defects. If rain or other factors have damaged any of the plywood sheets on your roof, we will recommend replacing them. Then, we begin by installing a drip edge and asphalt roofing felt paper on the roof. Finally, we lay out the design for the shingles and start from the bottom of the roof and move upward, nailing the shingles to the roof layer by layer. When we get to the middle of the roof, we install a ridge shingle to finish the roof.
Should old shingles be removed?
The answer is that it depends. Your local building codes may have restrictions on whether you can put new shingles on top of old shingles or not. Every layer of shingles that you add to your roof also adds to the weight load, and your roof is designed to support a specific amount. So how can you determine whether you need to remove your old shingles before installing new roof shingles? The best answer is to call your local roofing professional to assess the situation and provide his or her best recommendation.
How much do roof shingles cost?
Roof shingle costs depend on type and quality of roofing material that you select. To get the most accurate price for roofing shingles and installation in your area, contact your roofing contractor. We choose to install CertainTeed shingles because we believe that they provide the best value for our customers, combining both affordability and quality. For your free shingle roof estimate, contact us today.